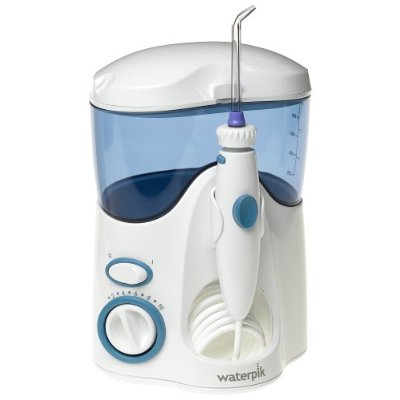 Water Pik, Inc. invented the water flosser (also knows as a dental water jet or oral irrigator) in 1962. For nearly 50 years,been a leader in developing and manufacturing innovative personal and oral healthcare products for the entire family.
Waterpik® is known for unsurpassed product performance and quality, with more research support than any other brand on the market. Dental professionals feel confident their patients will improve their oral health when they recommend the clinically proven Waterpik® Water Flossers.
According to the American Academy of Periodontology, 3 out of every 4 Americans currently suffer from some form of gum disease. Gum disease is a serious chronic problem that causes bad breath and tooth loss. Gum disease has also been connected with other systemic diseases such as heart disease, diabetes, and low birth weight babies.
The good news is Waterpik® Water Flossers can help you keep your gums healthy and strong. The Waterpik® Water Flosser is clinically proven to be twice as effective as traditional string floss for improving gum health, plus it's easy and pleasant to use. In just one minute per day, you'll be on your way to excellent oral health and the cleanest, freshest mouth possible.
Water Pik, Inc. guarantees healthier gums in just 14 days.Good oral health takes daily work. Traditionally, dentists and dental hygienists have encouraged string floss along with brushing for regular home care. But many of these professionals and their patients know that flossing is not easy. It can be difficult to get string floss between teeth and then effectively maneuver below the gumline.But there is good news: Studies show the Waterpik® Water Flosser is easier and more effective than string floss.
A study at the University of Nebraska found that adding a water flosser to tooth brushing was up to 93% more effective at improving gum health than toothbrushing and string flossing. Whether using a manual or sonic-powered toothbrush, adding a water flosser resulted in better reductions in gum bleeding, gingivitis, and plaque, the common signs of gum disease.
Since 1962, the Waterpik® oral irrigator, dental water jet, and water flosser have been helping people improve their oral health. Waterpik® Water Flossers are clinically proven to reduce the signs of gum disease even in people with braces, implants, crowns, bridges, and diabetes.